Grind Terminal Tackle
I recently had the pleasure of visiting with Mike and Melinda Dickey of Grind Terminal Tackle. We talked about problems solved, an opportunity seized, and plans for steady growth and expansion. I think you'll enjoy their story.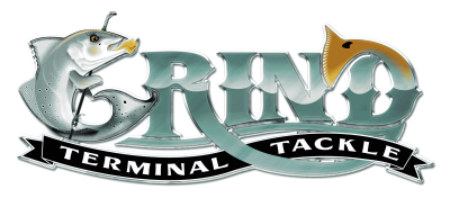 Introduction
Grind Terminal Tackle is an established company that's getting a new start. As often happens in the fishing tackle business, changes happen in people's lives, priorities have to shift, and opportunity is born. That is the story of Grind, of both the current and previous ownership.
Grind Terminal Tackle began as Terry McCrackin, one of the original owners, sought to solve the problem of his favorite wade fishing gear breaking down. Losing two wading boxes (along with all his lures) as Terry did would get me pretty frustrated as well. Terry used his ingenuity and built his own, combining the standard Plano-type boxes with straps so he could carry them on his shoulder.
He also tackled the problem of having a stringer full of fish that didn't want to slip off into the cooler because of the resistance of the nylon rope. I say problem, but that means he had a stringer full of fish, a problem we'd all like to have! In addition to the resistance of the rope, there was the tangling, the deterioration because of saltwater, and Terry knew there was a better way...
Working Together
Terry had a friend named Tim, a fishing buddy, and a co-worker. Tim and Terry partnered up and Grind Terminal Tackle was born in March of 2008. The wading boxes and stringers were the first products, and they needed a logo and had lots of ideas for t-shirts as well. As they brainstormed all the ideas they had, another co-worker was frequently in on the conversation, providing opinions and encouragement.
That happened to be Melinda Dickey, who said she felt connected to the company even though she had no ownership. She'd hear Terry and Tim talking about their new business, and was interested in what they were doing. She'd also tell her husband Mike about everything, and he got interested as well. That's when some of the changes occurred.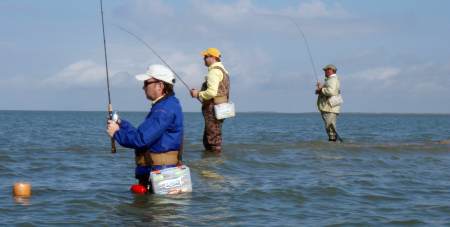 Tim was ready to move on and offered his share of the business to Mike and Melinda. They didn't do anything right away, but it was an interesting offer. About this time Mike's work in the oil patch was slowing down, and he began to recognize the writing on the wall. He was laid off soon thereafter, and the Grind Terminal Tackle opportunity looked to be the perfect transition.
A Fresh Start
Mike and Melinda took Tim's offer in March of 2009 and partnered with Terry to offer a fresh start to Grind. Mike took over production duties for the wade boxes and stringers, sales, and the day to day operations. Melinda took over the books, web design, and continued to be a sounding board and provide advice and encouragement. And Terry continued to provide research and development and help with the manufacturing process.
So here were the Dickeys, new to the fishing tackle business, but suddenly in ownership of a company that had two great products and a host of others to sell. While Melinda worked hard at getting their website redesigned and capable of processing orders, Mike hit the road to promote their products to smaller retailers and set up production facilities in the garage of their Spring, Texas home.
And they both made a commitment to spreading the word through festivals along the coast. They enjoyed the atmosphere and the opportunity to meet their growing customer base. From my time with them, customer contact and service are very important to their business philosophy. Mike mans the ship on a daily basis and recounted lots of feedback he'd received.
Current Production and Future Plans
Grind Terminal Tackle currently offers their stringers, wade boxes, and t-shirts, and hats of eye-popping design and detail. These can be purchased through their website, the shows, and festivals they attend, and select retailers along the coast. The wade boxes and stringers are assembled in their garage by Mike himself, and the t-shirts are printed locally.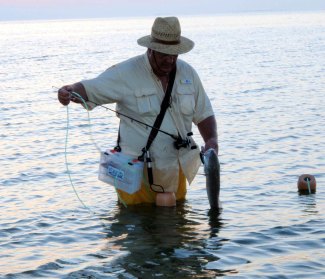 They also offer Midcoast Corks, Livingston Lures, EGO Wade Nets, and other wading accessories. When I asked Mike and Melinda where they'd like to see the company down the road, Mike stated that he was interested in adding complementary products from other manufacturers as well as expanding their own product line.
Slow, steady growth is what they have in mind, to protect the goodwill they are building with their growing customer base and to get the word out beyond Texas. Mike also mentioned several ideas he and Terry had for products for kayak fishermen, and Melinda offered that she had several ideas for products specifically designed for fisher-women.
Throughout our conversation, Mike and Melinda both talked about their customer feedback in specific terms. You could tell that they cared and listened intently when they received feedback online and at their appearances. Speaking of appearances, they'll continue to hit the road in 2010, their first stop being the Houston Fishing Show at the GRB.
Conclusion
Mike and Melinda of Grind Terminal Tackle strike me as solid folks who have a good business sense. They also have a good people sense, knowing that taking care of their customers is the way to grow a small business. They're glad to be in the fishing business, learning as they go, and are happy about the decision they made almost a year ago to jump in.
Remember me mentioning the stringer problem Terry was having? Let me tell you that he solved it and then some! Most impressive to me are the Grind stringers with the "Quick Float". The line is green, slick, and a little thicker than the rope on old-school stringers. Mike explained that it was a polyurethane blend. In Saltwater Fishing Texas terms, that means "Holds up in the salt, abrasion-resistant, and the fish slide right off into your cooler".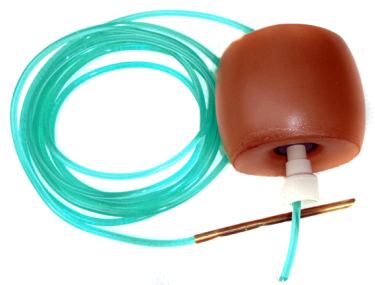 The "Quick" part of the equation is the little stroke of genius and engineering that lets the float easily slip off and yet hold lots of fish thanks to the stainless steel spring inside the float. Easy on, easy off, plus you can shorten the length if that's what you prefer. I picked one up and can't wait to use it.
Head to the Grind Terminal Tackle web page by clicking here.
We hope to see more innovations like these from Grind Terminal Tackle for years to come.
Return from the Grind Terminal Tackle profile page to the Manufacturers page.