Corky Lures: Paul Brown's Texas Garage Legend.
Corky Lures are a Texas legend and for good reason! This lure is responsible for more large trout year in, year out than anything else out there. Paul Brown produced and sold these lures from his Southeast Houston garage for decades before turning over the operation to MirrOlure in January of 2010.
The name comes from the cork cylinder that surrounds a stainless steel wire, encased in soft plastic. This cork cylinder gives the lure buoyancy and allows you to fish the lure slowly. Although MirrOlure is marketing them as "Paul Brown's Original Series", they will be forever known as Corkies!
Corky Lures are also made with rattles, providing a large profile, noisy lure that large trout and redfish have a hard time resisting! They come in several sizes and colors, ranging from 3" to over 5".
A Visit to the Shop
Prior to January of 2010, they were purchased directly from the man himself. It was a pilgrimage of sorts for saltwater fishermen to visit the shop, share fishing stories, get advice on fishing corkies, and see the operation. Fond memories are shared by those who visited Paul Brown's garage before he shut down the Corky Lures operation.
I have fond memories of visiting the shop, talking with Paul and his wife, and seeing the operation. They are friendly folks, and it was evident by the dozens of prototypes that Paul was a tinkerer and never stopped experimenting with new ideas.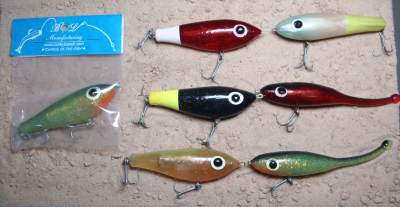 I shared my own story of creating fishing lures, explaining that it meant more to me when I caught fish on lures I created myself. And I'll never forget what he said, "Well that's the kiss of death!"
He said it with a smile, however, knowing the rewards but knowing that it's a never-ending quest. It was a special moment, and in the next few minutes, I was able to ask him how the Corky lure came into being.
He explained that early on a fishing buddy approached him about creating a soft plastic version of a Heddon Super Spook topwater. I didn't get the full story, but he explained that it wasn't an overnight success, but a process of testing and refining that led to the Corky Lures creations.
New Production
In January of 2010 production was turned over to MirrOlure, and they are doing their best to faithfully reproduce the Corky models in a Costa Rica plant. According to MirrOlure, Paul Brown oversaw the transition and is involved in making sure they would meet and exceed the expectations of saltwater fishermen who have used Corkies with tremendous success.
Head to the MirrOlure website to see the color chart (opens separate window) - Texas Rattler. Fishing Corkies
Their slow sink rate helps to work them slowly, one of the keys to success with corkies. A good way to work them is to make your cast and then let them sink for 3-5 seconds or for a sufficient time to get them close to the bottom.
As you bring them in, give them a good twitch or two and then let the inherent action take over, giving them some slack and letting them glide and fall for 3-5 seconds. This twitch will engage the rattle, move water, and draw fish. They might hit them in the fall so hold on!
To slow them even further, bend the tail of an Original Corky up at the back. When you twitch it on the retrieve, it will move up in the water column, giving it further to fall, and keeping it in the strike zone even longer.
I had a memorable wade on a mid-bay reef in San Antonio Bay fishing a Corky Fat Boy parallel to the reef on the windward side. This was in February, and I caught four solid trout in a row on the chartreuse color.
The first one that I hooked was the biggest one - between 22" and 24" - and he got off right at me! I'll never forget losing that fish. It's burned into my memory and I now have a landing net that I'll have with me for the next encounter.
Swimbaits
These are soft plastic lures, rigged and ready to fish, with built-in weight and hooks. These lures are hugely popular with bass fishermen and are becoming more popular with saltwater fishermen.
As the name implies, these baitfish imitations swim through the water enticing fish with their natural action. They come in a variety of sizes and create a realistic profile. Storm and DOA make a wide variety of these lures for saltwater use.
Also included in this category are the rigged and ready, soft plastic shrimp imitations from DOA. They've been successful for quite some time as they present a realistic profile and action of a live shrimp. They come in a variety of sizes and colors.
Return from Corky Lures and Swimbaits to the Fishing Lures page.