Brown Lures
Profiling Brown Lures was a no-brainer for Saltwater-Fishing-Texas. Jason (25) and Jake (21) Brown are two young men that have made a significant impression on the saltwater scene in Texas. You could say they were born into the fishing lure business, but are determined to make their own impact. Read on for their story...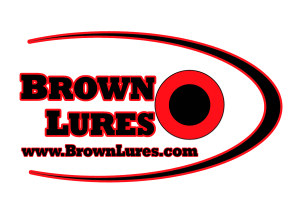 Introduction
Jason and Jake Brown grew up in Southeast Houston and Friendswood, and have been saltwater fishing for as long as they can remember. And aside from when they were very young, they've been using artificials. Jake explains, "It was always kinda funny when people asked us when we were kids what we had used for bait, and we'd reply - plastics."
There's no mystery there as Jason and Jake's grandfather is Paul Brown, inventor of the Corky Lures. They spent a lot of time early on in Paul's shop, helping out and learning what it took to create fishing lures. This experience served them well as they set out on their own to create their own fishing lures and their own business.
The Next Generation
When I asked Jake about Paul's influence on their business, an implied question was the continuity of the Brown family business. He replied, "We always thought maybe one day we would make our own lures and have our own company. We didn't just assume we would inherit the B&L business."
From this response and the overall impression from talking with Jake, it sounds like a lot of the differences come from starting a business in 2006 vs. starting one in 1974 when Paul Brown's B&L Manufacturing business started.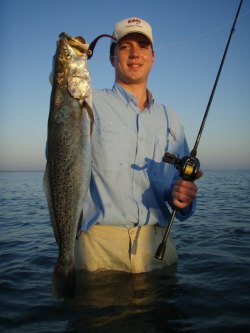 The Brown brothers knew the power of the internet, and with little capital to make a big marketing or production splash, decided to market via their website and to independent stores at the outset. This business outlook was different from their grandfather's, and Brown Lures was born.
Despite their differences in business philosophy, Jason and Jake are quick to credit their grandfather with their early introduction to the fishing lure business and help with their first molds. Jake explains, "When we were young Paul was always good to us and we learned a bunch of stuff around the shop just helping out with things, and eventually we picked up on all the major factors of creating a fishing lure."
Current Production
Here in Texas, we've seen the Sea Devils from Brown Lures for a while, and then an interesting creation called the SOLO. The most popular offering has definitely been the Devil Eye, a larger mullet imitation with a pronounced eye reminiscent of the Corky lures.
Jake explains the creation of the lure, "We started making some of the lures our grandfather used to make and then decided to modify an existing product which brought about the Devil Eye. It was a good twist on an old-fashioned lure. You get the best of both worlds by having an inexpensive plastic that will last a long time, but has features from a high-end plastic like the Corky or other competing lures."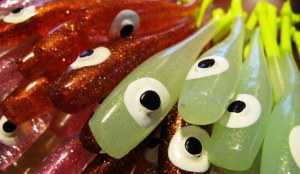 The popularity of the Devil Eye leads to an opportunity with Academy Sports and Outdoors, the largest outdoor retailer in the region. When asked what this meant for their business, Jake responded, "It's been a HUGE deal getting them into Academy." They've had to work out some kinks in their business operations to keep up with demand, but it seems like the Brown brothers have caught up and have made the necessary adjustments.
This also bodes well for their future business as Academy expands East into Louisiana, Alabama, Mississippi, and Florida. They've recently completed renovations and upgrades to their production facilities, and have developed internal software to better serve their customers, forecast demand, and analyze their marketing expenditures.
Future Plans
One of the trademarks of successful fishing tackle companies is a pipeline of new offerings, including colors and products. When asked what was in the Brown Lures pipeline, Jake responded that there will be both new colors and new products on the horizon for 2010. "Our new colors for the spring will be something nobody has really seen and they'll be unique to our new products."
When asked about a new product, Jake replied, "We do have a paddle-tail lure coming out, but I can't give an ETA other than they will be at the (Houston) fishing show for sure. Eventually, we will be bringing back the SOLO lures, but I have no clue when they'll be available again. They will be redesigned to suit more anglers, especially the ones who didn't like the size and the hook gap."
Conclusion
The recent sale of the Corky lures by their grandfather lead us to ask if this was an inevitable progression for a small tackle company like Brown Lures. Jake gave a thoughtful response,
"That's kind of a sticky subject, but I don't think it's inevitable. If someone down the road did offer to purchase our brands I'm sure we would give it a good thought, but I don't think we could bring ourselves to selling unless we were on our way out and wanted to retire or something like that. Kinda hard to explain, but when you put countless hours into building brands, products, and a company from scratch it's hard to let it go."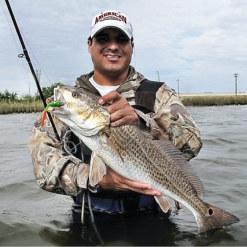 Jason and Jake Brown of Brown Lures have made their own impact on the Saltwater Fishing Texas landscape, combining their family history with some 21st-century business savvy. And all this by the ages of 25 and 21. Here's hoping that they stick around for a good long while and continue to produce effective fishing lures and tackle.
We'll be keeping up with Brown Lures and reviewing their paddle tail offering when it comes out in the Spring. They will be selling them at the Fishing Tackle Unlimited Booth at the 35th Annual Houston Fishing Show at the George R. Brown Convention Center from March 3 – March 7, 2010.
Be sure to visit their website for the latest information and the wide range of colors available for their popular and effective Devil Eye soft plastic and the true-lock jigheads to go with them.
Head to the Brown Lures website by clicking here. (opens separate window) Jason and Jake are also contributing to our article on fishing and working artificial lures. Stay tuned!