Bio of Heath Hippel, Creator of SFT
I grew up in Houston, Texas, and am blessed to have a Dad who took me hunting and fishing at an early age. He grew up in Teague, Texas, bass fishing and duck hunting on the "upper" and "lower" lakes, and has been taking me ever since I could hold a fishing rod and shoot a shotgun. He also worked for Dow Chemical long ago and used to tell me stories of surf fishing near San Luis Pass. I've seen pictures of some impressive stringers of trout that I'm still trying to match!
So I grew up bass fishing the small to medium-sized ponds of East Texas, fishing cover in shallow water with plastic worms, spinnerbaits, and topwaters. Bass fishing most often was trying to figure out what the fish wanted to eat that day and not where they were. We knew where they were, but getting them to strike was the key.
He also took me a handful of times to the surf and to the jetties or a near-shore rig in a friend's boat. We never caught as many fish in the salt as we did bass fishing, so I didn't have as many good experiences saltwater fishing early on. Although I do remember catching a couple of redfish in the marsh behind Beach Bait and Tackle and man did they pull hard!
Growing up, Colorado was our family vacation spot most summers. Here was my initiation into fishing with flies as Dad taught me how to catch trout on lakes using a fly behind a bubble on our spinning gear. He also taught me a little about fly fishing. We always enjoyed the beautiful scenery and the weather sure provided a much-needed break from the heat and humidity of a Houston summer!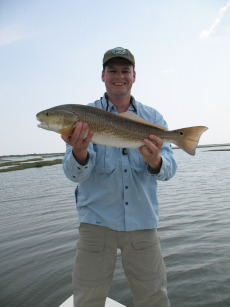 After college, not having a whole lot of vocational direction, I moved to Colorado and worked in a fly fishing store in Aspen called Oxbow Outfitting Company. Working at Oxbow I slowly learned to fly fish and tie flies. I fished on my own most of the time but was privileged to fish with one of our shop guides from time to time.
I was amazed at their skill and how much I could learn with them in a day vs. what I learned on my own. They sped up my learning curve for sure. I also learned to tie flies. There was a special joy in catching a trout on a fly I created myself. This is an experience I've tried to recreate since I moved back to Texas.
After two summers and everything else between in Colorado I came back to Texas and started experiencing the joys, challenges, and frustration of saltwater fishing and fly fishing. My first saltwater trip when I returned was an unforgettable one with Chuck Naiser. He put us on redfish two days in a row and I was able to catch a red on a rather ugly-looking shrimp pattern I tied.
That was back in 1996 and over the years I've tried to learn how to consistently catch fish in the salt, fly fishing, and using artificials. I'm not a fly fishing purist who refuses to use anything else but a fisherman who knows that a fly can be very effective in certain situations. Most often I use my baitcast gear and occasionally use spinning and fly fishing gear.
I'm blessed to have a loving wife and three great kids. My wife fishes with me every once in a while, and my Dad and I take the kids to smaller ponds whenever we can. As they get older I'm looking forward to bringing them to the coast.
I hope that through this site and your time on the water you will experience the same joys that I do saltwater fishing.
Tight Lines!